It's difficult to describe exactly what informs my interest in Tolkien, but suffice it to say quite simply that I have a powerful affinity with his writing, so full of vast, lost, misty expanses and its unique mixture of the familiar and strange. His emphasis on light and shadow in particular, whether metaphorical or literal, justifies any artist's interest. I instinctively relate to the whole phenomenon that is Tolkien's Middle-earth, for surely his work bears comparison with the most intricately plotted, most imaginative literature ever written.
I have a deep inner conviction that I am capable of interpreting his words through my artwork with a high degree of integrity. There's a strong desire in me to expand on his imaginary world through the medium of illustration. I frequently discover interesting visual subtexts and associations as I work which seem to reflect well the subject in question. Over time, it becomes not only a question of a desire to paint as many interesting scenes as possible, it's also interesting to reinterpret certain scenes as my insights into them, as well as my skill and techniques, evolve. Several influences guide my sense of how best to portray Middle-earth and its peoples, creatures, and other aspects, both in general and as I conceive an individual setting or image. Besides the traditional romantic illustrators and painters of the 19th and 20th centuries, impressions from cinema, light effects observed and/or photographed, as well as pictorial reference materials in my files or from the public libraries tend to help me realize the ideas in my mind's eye. In most cases a painting begins as a small thumbnail pencil sketch, later developed in a succession of variations, usually of increasing size, still in pencil. When satisfied that the image is composed well, I will either proceed to a full size drawing or paint a scaled down 'postcard' version of the scene.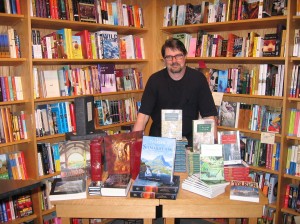 In some cases the colour sketch may be repeated with variations. At the full size drawing stage, specific details of the elements of the scene will be fleshed out, using references as required, and variations on these will most likely be experimented with at this stage. The colour sketch usually is photocopied around this time, blown up to 8½" × 11″ or larger. Occasionally I may scan the image to vary the tone, colour and contrast. Once all this is accomplished I then transfer the finished drawing to illustration board and proceed to paint the final version. Most of my originals measure anywhere from roughly 10″ × 13″ to as large as 24″ × 32″. The medium I use is gouache (tempera), an opaque, water-soluble medium with tremendous versatility – ideal for work that is both loose and 'painterly' as well as tightly detailed. Very luminous and brilliant, it can be watered down to a transparent consistency. While it dries in seconds, this medium can be wetted and reworked instantly as well. Most paintings take roughly 2 to 4 weeks to create. It's safe to say that I'm still a long way from exhausting even the most interesting possibilities for Tolkien art. Nonetheless I'm proud of the amount of art that I've accomplished to date. Along with the more primary scenes, there are also the many possibilities to be found when you select from the moments occurring between major scenes. In some cases I've marked several such secondary images from a single descriptive sequence.
This section contains the largest collection of images: examples of my work from the 1970's to the present inspired chiefly by J.R.R. Tolkien's The Lord of the Rings, but also The Hobbit and The Silmarillion.