My Life: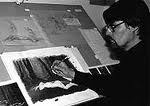 I was born in Goderich, Ontario, Canada in the mid nineteen-fifties. My father was an electronics technician in the Royal Canadian Air Force (as then known), stationed in nearby Clinton. My first memories, though, are from a three year stay in France, in the town Longuyon near Marveille, on the German border, where our family lived while my father was stationed there. As a young child, the memories of those times made a strong impression on me as we traveled about the nearby countries during holidays. Reinforced in later years in our slide shows, certain places stand out in particular; a trip to the famous Madurodam Miniature Park in The Hague, Holland, and one to Luxembourg's Parc Merveilleux, a fairy tale theme-park (which I recently discovered still exists!), and on a more somber note, the great war cemetery at Verdun with its imposing mausoleum.
Returning to Ontario (you travelled by ocean liner mostly then), I remember very idyllic times in Goderich, and my first school days. Two years later we moved to Woodstock, a small city a half day's drive east. My father spent months away on the DEW line in the Canadian Arctic, while my mother, having received her teaching certificate, started her career as a school teacher. My childhood involved several moves, and around age 8, we again moved, this time into an apartment in the Toronto suburb of Don Mills. My favourite passtime–besides the constant drawing of pictures–was building plastic model kits (mainly airplanes) and painting them. This was not always a happy time, though, I was painfully shy, socially awkward, and my parents had split up before the move. When I came to enter high school, I was advised to enroll in a commercial art program I hadn't known existed, but which proved to be a saving grace, and the better for being unlooked for. Prior to this I'd assumed in general that my habit of sketching constantly was an unhealthy distraction from schoolwork; I was a dreamer, of course. Throughout those formative years, I would spend many hours drawing pictures, mostly of 'boy things'; spaceships, airplanes, cars or war scenes, and it helped insulate me from outside pressures.
In high school, however, instruction in various art subjects proved to be a breakout environment for me, and I flourished! Then, in my 3rd year I discovered The Lord of the Rings, on my sister Cathy's recommendation. Her high school friends were 'into' this author, JRR Tolkien, and this spellbinding trio of books became an urgent and deeply satisfying new focus for me. There's nothing quite like finding something important you didn't know you were looking for!
After graduation, with honours, I quickly landed a job as an apprentice architectural renderer. I was hired by showing a flair for realism, though architecture was not something I'd studied. But it was that or continue looking for 'entry-level' graphic arts work, so I seized the chance. This small studio, called Visual Concept, was run by Michael Kelly, a Birmingham architectual designer turned renderer, and I joined him and one other artist. There I was taught much about this under-appreciated form of illustration, and quickly became proficient. I worked there for several years, gaining considerable accolades in the industry. When Mike decided to start a new design firm, and then devote his full time to it, he offered me the roster of architectural clients, since by then I and my colleague were doing all the artwork anyway. That soon led to my full independence as an illustrator-renderer; in subsequent years I continued architectural work while also diversifying into other forms of illustration. It was during this time that my Tolkien art, practiced privately for years by now, had matured to where it was unquestionably a vocation, and something which ought to be recognized.
Tolkien had long since had a very profound effect on me, and helped lead to much that I now count most significant in life. It opened up in me a dormant love of lost and misty times, myth and legend. Not since early childhood had I felt such a sense of 'home', unaware of the effects the intervening years had had in displacing it. Once inspired, I began to draw scenes and characters from this fantastic realm, becoming absorbed for many hours at a time. Tolkien and the compulsive satisfaction it provided were an important influence away from some of the less healthy 'distractions' of those years, and the fun and creative fulfillment of depicting Middle-earth never seemed to diminish.
With much encouragement from friends and family (my mother's encouragement was critical), paintings of scenes from LotR led to dreams of having my artwork published, especially in one of the newly appearing calendars, but it nonetheless seemed a distant prospect. Successive bids for publication came to little, usually resulting in polite letters of rejection. Still, from time to time I'd see new Tolkien art which would galvanize me once more to paint new scenes. These years were the early-mid 70's to the mid 80's.
It was the Brothers Hildebrandt's three glossy calendars of 1976, 77, and 78 that excited me to seriously seek publication, though. Their work was realistic and detailed, but I felt I had qualities and insight in my own work that surpassed theirs. The comparison also helped me further define my own style and interpretations. In that period various traditional illustrators and painters of the past century and a half informed my developing style, too. I would describe it as an echo of the American Luminist (landscape) and wider Victorian neo-classical styles. I felt these traditions would well compliment the sweeping grandeur of LotR, and I'd always been attracted to this kind of art. Tolkien and C.S. Lewis once came to decide that they needed to write the kind of books they wanted to read; I decided someone (me) must paint the kind of Tolkien illustrations I wanted to see!
In time I became a member of The Tolkien Society, having discovered its existence from a note printed inside an art book of Joan Wyatt Tolkien paintings (A Middle-earth Album). With encouragement from them I again approached Tolkien's publishers George, Allen and Unwin, and this time they responded positively. Within a few months they offered to include 4 of my gouache works in the 1987 JRR Tolkien calendar. A breakthrough at last!
Going from that to other calendars was a shorter step, leading to 4 works in the 1988 calendar, and my 1st full calendar in 1990, some 14 years after 1st dreaming of it. Other calendars followed, as well as use of my artwork on the covers of paperback editions of The Lord of the Rings and The Hobbit. Then in October of 1996, just after returning from the UK, I received a faxed letter from Tolkien's publishers asking if I was interested in illustrating The Silmarillion. I was beside myself! A few months earlier I'd sent a series of colour sketches to them after spending a number of months compiling pencil thumbnails inspired by the book. Created as a self-assigned project, I hoped vaguely that they might be publishable as an art book, but instead they became the basis of negotiations for the first-ever illustrating of this underrated masterwork.
This new, illustrated edition of The Silmarillion was published in the fall of 1998, and was of course a most significant milestone for me as a Tolkien artist. Still, The Lord of the Rings remains my 'first love', and the commission to paint art for three successive LotR calendars for 2002, 03, and 04 gave me a perfect opportunity to expand my LotR output. During this period, an upgraded 2nd illustrated Silmarillion edition was published in 2004, featuring nearly double the number of colour illustrations. It remains among my proudest achievements.
Aside from my career as an illustrator, I have a musical side. From adolescence on I've been a guitarist and singer, writing many songs (several are Tolkien inspired), as well as performing as a tenor in several choirs over the years, both worship and concert-oriented. In the 1970's, with brothers Jim and Bruce, we pursued the art of songwriting and musical composition passionately. Some of the efforts of that period even stand the test of time–while others not so well! I continue to write music occasionally, and a noteworthy project has been the composition of a song cycle, in collaboration with my friend and writer/scholar/musician Alex Lewis, of the tale of Beren and Luthien. More recently, I fulfilled a longstanding ambition to record a CD collection of songs, titled The Hidden Door (for samples of my songs see my Music page). My intentions are to continue to make recordings, and I continue to enjoy performing for fans and friends when opportunities or events allow.
I should also mention my [strictly local] life as a bass player in a rock trio my brother Bruce and I inaugurated in late 2011. 'The Petition', with drummer Jeff Goldstein, is my/our way of 'letting off steam' with mostly covers of classic rock songs–I remain a child of the 60s. The history of that side of me/us stretches back to our teen years. Bruce, Jeff, and I also back up our friend Rob McArthur and his wife Lorraine Davies in a country-rock thing called The Too Drunk to Fish Band.
In the last number of years the fantasy of George RR Martin has become a vital new element in my illustration output, too. A series of castle paintings; depictions of several royal houses described in A Game of Thrones and its sequels, were commissioned in 2007, destined for The World of Ice and Fire (planned for 2013). They appeared in the George R.R. Martin calendar from Random House in 2011, as well. More recently I've been commissioned to illustrate a deluxe numbered edition of A Game of Thrones, and am very excited to be adding so richly to my 'GRRM' body of art with this project.
And lastly, very recently, after moving to the town of Bradford where I currently live with my partner, I've been rediscovering the mediums of pencil, coloured pencil, and oil pastel, exploring images of picturesque rural decay in old collapsing barns, sheds, and farmhouses. And whenever time allows in my very busy life, I love to get away to Ontario's north country, satisfying a love of nature which was nurtured from the beginning for me. It provides the kind of escape only a wilderness environment can, and always contributes to my staying centered.
Ted Nasmith / September 2012